Country Barbecue BBQ
by
Liv
| Published on November 29th, 2005, 8:58 am | Food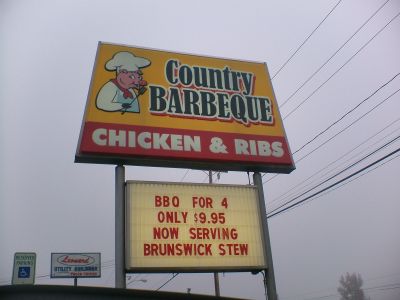 Every town has that one restaurant the eventually becomes synonymous with the city it resides in. Misplaced residents are often left to suffer as they merely can munch on the memories of their former hometown and its cuisine.
I've lived all across the United States and in every place I've lived, there has been that one place. In Los Angles it was
Tommy's Burger
. In Toledo, Ohio it was
Tony Packo's
. And in Greensboro, It's honestly a toss up between Country Barbecue on Wendover or Beef Burger on Lee Street.
While I'm sure people will think I'm a heathen for saying this, I plan to do it anyways. I don't like BBQ. But.... I do like Chili Cheese Burgers, and at least so far, Country BBQ gets the "
mouth full of food
" award of the week for the best Chili Cheese Burger in Greensboro. Besides where else in Greensboro can you actually order french fries by the pound.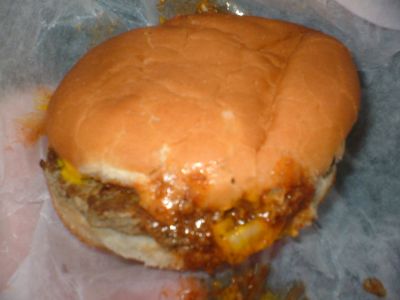 I very rarely get a chance to go to Country Barbecue, because one, they don't take credit cards, and two they are located on Wendover, which in my opinion makes going there a life or death situation.
But I decided yesterday, after paying off those freaking charity leeches at work for the United Way, and having a few dollars in my pocket I would tempt fate during "
Cyber Monday
" and get me some yummy greasy burgers.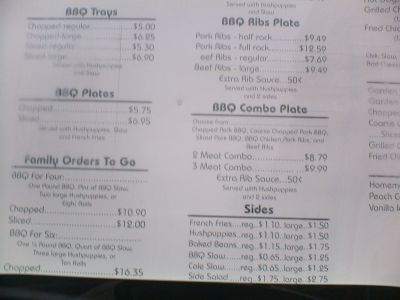 "
I'll have 2 Cheeseburgers with Mustard, Chili, & Onions Please,
" I said to the drive thru speaker that looks more like a 5th grade science project, then a fast food drive-thru.
The speaker responded..."
Two Burg (static) with All (static) the pull thru (static) your total
."
Sure I said, thinking they better not put slaw on my darn burger. Several minutes of waiting behind an SUV with a license plate of "1 KULMOM" and I pulled up to this ancient burger contraption called the drive-thru whirl-o-matic. It's kind like those revolving doors they used to put in shopping malls and hospitals. The lady inside has this huge money claw device that comes out to attack you as you pull up. I stuck my money in this torture device and the lady practically snapped my hand off as she rotated the window.
I peered through the window to see a very large man preparing my burgers.... squirting mustard on my buns, slopping chili on my burger... and...
"
NO........"
"NOT THE SLAW"
I beat on the window, screaming
NO. NO. NO.
but they didn't notice. Then I realized I had
my
window rolled up.
Too late. The bag had made its way into the rotating drive-thru of death back to my car door. I reached out to my bag disappointed, and figured what the heck, I'll scrap em.
So there went the top bun, and that ewey gooey slaw. A small smile came to my face when I realized I now had a partial Atkin's Burger now. All the grease without the Carbs. Yeah.