Burn Energy Drink
by
Liv
| Published on January 7th, 2006, 3:41 pm | Food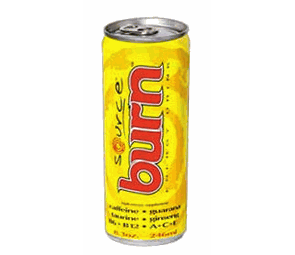 Burn Energy Drink
A couple of nights ago one of the local News stations did a segment which mentioned Burn Energy Drinks, and how it was made here locally in Greensboro.
So I went to their
website
to check it out for myself. When I got there it shocked me.
No nasty cough-syrup... ...taste here.
"But I love the taste of NyQuil! Its' my favorite."
Burn is the strongest energy drink! With 118mg Caffeine... it has 48% more caffeine then Red Bull or Sobe...
Your kidding me right? This has got to be illegal. It sounds like there is enough caffeine in this stuff to jump start a corpse. "I Want Some!"
Formulated to win
Obviously, the chemical composition of this drink is similar to jet fuel in a Honda, and will make even the weeniest of people, awesome and spectacular.
All I know is I've got to try some of this stuff. As soon as I find where to buy it I'll let you know.