Liv's Blogging Rum Smoothie Recipe
by
Liv
| Published on June 28th, 2006, 6:56 pm | Food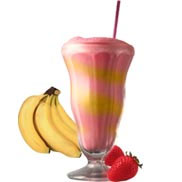 Liv's Blogging Rum Smoothie
1 1/2 ounces of tropical Malibu rum.
3 1/2 of strawberry daiquiri mix
3 bananas
Ice.
Blend. Pour. Pound.
Oh yeah... this is some good stuff.
Remember today's Liv quote of the day while drinking:
The Tragedy of life is, no matter who you try to be, you'll be remembered for who people think you are.