Turtle turned into Figure 8, By 6-pack plastic rings
by
Liv
| Published on June 16th, 2006, 2:40 pm | Science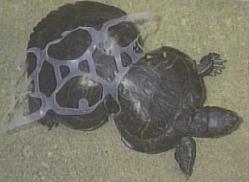 I will admit there was a time in my life where I had a flagrant disregard for the environment and nature. My assumption was that if it came from the earth, then its just going back to the earth, right? Wrong. Take for instance those 6 pack plastic rings we've been told for years to cut before we throw away, since birds and other animals can get their little heads stuck in them, and have a permanent necklace.
No biggie right, If the dumb duck is that darn stupid, maybe he deserves to wear a soda pop ring around his head for awhile. But what if the ring caused permanent disfigurement, and a life of disability and pain?
This Video
purports just that. It's a turtle that crawled into a soda pop ring many years ago, and grew into a figure 8 because of the castrating effects.
Effective now, I'm cutting my rings.