Theater Drive-In, Eden, NC

Posted:
July 29th, 2006, 11:36 am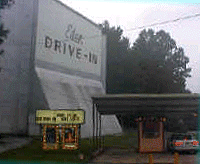 I'm sitting here on a blanket at the Eden drive-in writing on my laptop. We just finished watching "You, me & Dupree." and we're waiting for intermission, and then "Little Man" is coming on. It's hot still and it's nearly 11PM. Overhead the clouds our flickering with lightning. If you've ever seen the drive-in scene in the movie Twister, then you can get some idea of what the current setting is like.
The Eden Drive-in is a really neat place here in the Piedmont, if you've never been. It's, as the name suggests 30 miles north of Greensboro in a little town called Eden. It's been there for years and bang for the buck can't be beat. Set in the rolling hills, with lush green trees, and a quiet country like setting, it's always packed for the triple feature on the weekends.
Despite global warming and the temptation to jump in your air-conditioned car, you'll still get that 50's feel with classic cars, convertibles, and backed in pickup-trucks full of families, back seat lovers, and modern day professionals trying to capture the classic time in America when the world was neon, and cliche'. It's a place of undeniable nostalgia, that's often romanticized in ways the period never was.
The Eden Drive-in is unique in that for 5.00 a person, with kids under 11 being free, you can see 3 movies. For our family of four that works out to only .84 cents a movie. Where in the world are you going to find that kind of deal?
You might be wondering how they make there money then right? Well let me tell you, you might want to have an extra 20 dollars on hand for the concessions stand, which serves ElizaLiv's pizza, Hamburgers, Hot-dogs, Chili-Fries, Nachos, Popcorn, Soda and candy.
They've got a playground for the kids, picnic tables to eat at, and a FM radio station that broadcasts 50's music and the movie audio almost anywhere in Eden.