Horneytown, North Carolina
by
Liv
| Published on February 5th, 2006, 5:29 pm | Greensboro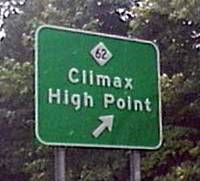 Does Climax & Highpoint Realize they are the center of a long running Joke
Okay for the 100 millionth time, I have received another incarnation of the "odd road sign email." You know signs like "Bat Cave" this way. or "Diesel Fried Chicken" or a Taco Bell sign that reads "Now Hiring all (expletive)." The one sign that is always in there is the Climax / Highpoint sign that appears here just outside of Greensboro.
In this latest email someone intelligently placed a sub-title under the picture that says "Well, thank goodness!!! Up until now, only 36% of women have been able to find this."
This email puts this sign in the company of a sign that says "Do not hump under any circumstances" and a "Caution water on road during rain" sign.
Now I'm sure every single one of us has gotten this email. But Does High Point or Climax know about this little joke. Would they care if they did? Or maybe... just maybe.... IT WAS PLANNED THIS WAY!